Thank You to this month's sponsors, contributors, and companies who didn't try to shoot our UFO's out of the sky for using their product in this month's box.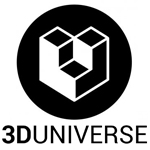 The September 2019 UFO Mystery 3D Printing Box has landed! This month is themed for Suicide Prevention. Thank you to @RobbyMaQ for the box design!
September contains Suicide Prevention Week, which with the holiday season coming up I thought it would be important to bring attention to such a touchy subject. Some of us, myself included, have had some bad days. Have had bad things happen in our pasts, and some of us just can't help is and our minds bring us down.
I want each and every one of you to know that we are all family here. Many in the community and myself are here for each other, and here for you. So no matter what, know you can reach out if you need to. I hope you all enjoy this months UFO • Josh ~Alien3D
Congrats to James Z. for receiving the September 2019 Mothership Box!
Congrats to Ryan L. for receiving the September 2019 Filaments Only Scout Ship Box!
...
Congrats to Mike R. for receiving the September 2019 Project & Accessory Science Ship Box!
...
The Filaments Only Scout Ship and the Project & Accessory Science Ship Boxes are given to one random subscriber signed up for those boxes and receive a full UFO box with the filament, projects and accessory for that month!
2 Daelman's Mini Stroopwafels
Cloth Teal and Purple Suicide Awareness Ribbon
Teal and Purple Suicide Awareness Ribbon Sticker
ProFi Box Sticker
Alien3D Ooze Runs Thru My Veins Sticker
SUBSCRIBERS! You should see the discount codes below... (must be signed in)
Please login to view codes if you received this months UFO.
Mechanical Dial Indicator 0-10mm/0.01mm Resolution Gauge
I really had no clue what this was used for when it was suggested by Tanny lol. But as it was explained to me, you can mount these to your X carriage and lower it to your bed, applying a little pressure. You can then turn the outer ring of the dial so that the needle falls on the 0.
You can then move the carriage around the bed and determine low and high spots on your bed to check its flatness.
I found a nice video by DIY3DTech.com you can find to the right (or below on mobile)
Mini Wifi 3D Print Monitor - OctoPrint
This project was suggested by Shawn Butler. Thankfully, THE Chris Riley already did an amazing video on how to build it! You can find the link to the instructable below.
Parts included in the UFO:
ESP8266
128X64 White OLED LCD
USB cable
Buy OLED Display on Amazon